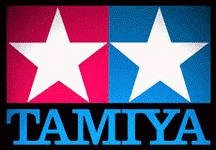 Tamiya Corporation is a Japanese manufacturer of plastic model kits, radio controlled electric and nitro-powered car models, battery- and solar-powered educational models, and sailboat models. The company was founded by Shunsaku Tamiya in Shizuoka, Japan in the early 1960s. The company has gained a reputation among hobbyists of producing models of outstanding quality and accurate scale detail. Some of their most notable products include:
The Sand Scorcher and Rough Rider, released in 1979 and credited as the first radio controlled cars to feature a proper off-road suspension.
The original Blackfoot monster truck kit and its variations, first released in 1986 and credited with much of the hobby's growth.
The Clod Buster 1/10th scale radio-controlled monster truck released in 1987 as the first Tamiya R/C monster truck with two drive motors, four-wheel drive and four-wheel steering. The Clodbuster virtually spawned an aftermarket industry of its own which catered to those who wished to modify their models.
The Bruiser 1/10th scale radio controlled pickup truck. Released in 1985, it had a working three-speed transmission which could be shifted via radio control, a high-torque RS-750SH motor and ultra-realistic Toyota Hilux body with camper shell and interior detail. The aluminum frame, suspension, drive axle and steering were patterned after their full-sized counterparts. This complex and expensive model has since become one of the most collectable of all Tamiya R/C's.
The Mini 4WD and Dangun-Racer series, which are small (1/32nd scale), single-motor, free-operating electric models designed to run in competition on a special, deeply channeled track.
The TRF414 radio controlled car; holder of the 2002-04 1/10th scale touring car world champion title.
The TRF415, holder of the 2005 1/10th scale radio controlled touring car world champion title.
The Hornet, a radio controlled buggy first released in 1984. It would go on to become one of the most popular R/C kits of all time and has recently been re-released.
The "Military Minatures" (MM) series of military vehicle scale models, which established 1/35 scale as the worldwide standard for the military vehicle genre.
Tamiya has several large regional divisions, notably in the Aliso Viejo, California home of Tamiya USA, the North, Central and South American branch responsible for many of the company's racing developments. Tamiya USA also features a world-class racing facility which is the site of several world championship events. An assembly plant is located in the Philippines and Germany is the home of the operations of Tamiya Europe.
Other recent rerelases include:
The Lunch Box, a 1/12-scale electric monster truck topped with a customized Dodge Tradesman van body
External link
Edit
Community content is available under
CC-BY-SA
unless otherwise noted.