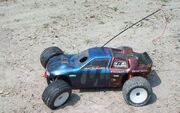 Team Losi (commonly referred to as just Losi) is an RC vehicle manufacturer started by Gil Losi in the mid-1980s. Their first vehicle was the JRX-2, a 1/10th scale offroad racing buggy, which came out in 1988.
The cars, trucks, and buggies that Team Losi makes are normally designed for racing, and are very high quality, with the notable exceptions of the Mini-T and the Losi Super Truck (LST). These are also the only two vehicles that were originally available in a sport ready to run package (RTR), instead of an unassembled kit.
The Team Losi "sport" RTR models are slightly de-tuned versions of the racing kits. They have plastic parts that have "RTR" molded into every piece, and are completely assembled with a JR radio, Novak speed control, and unknown brand 19 turn "spec" motor.
Currently popular Losi vehicles are the XXX-T2, XXX-NT2, JRX-S, XXX-S, Mini-T, XXX-4, XXX-BK2, and LST.