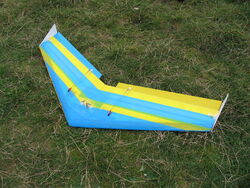 The Zagi is a radio-controlled glider. They are flying wings constructed of expanded polypropylene foam, covered in colored vinyl. Zagis are very popular for aerial combat since they are practically indestructible. This, and their easy construction, also makes them popular for beginners.
There are various versions of the Zagi available for different applications, such as slope soaring, thermal soaring and electric flying.
A Zagi can fly off of a slope, with the wind, with the help of a catapult, or with an electric motor.
External links
[
]
The Zagi is a wire cut EPP (expanded polypropylene) foam flying wing. The Zagi was first manufactured in California by Jerry Teisan in 1996. Jerry Tesian owned the ZAGI trademark, but sold the company in 2015 to Joshua Johnson and Jacob Marble, the company is now based in northern Idaho. The first Zagis were slope soaring and combat gliders followed by the electric versions in 1998. In 2001 the high performance brushless version was introduced. Since then, many new models were introduced. The Zagi is still made with the foam and tape construction since it has proven to be more durable than molded foam in combat. Newer gliders and brushless versions of the Zagi are available from Trick Wings.
Survive the Big One
[
]
| |- |The crash that would be called "The Big One" to any other airplane is just a landing to a Zagi. Crashing a Zagi is little more than embarrassing. The word "foamie" refers to a wire-cut, easy to assemble EPP (expanded polypropylene) foam and tape airplane. The original Zagi foamies have crash survivability because of this building method.  Trick Wings pioneered this method and has continued to refine the products based on performance and crash survivability.  Zagis have maintained the simple wing shape that contributes to its crash survivability.  Some of the offshore imitations offer ready made wings while others offer molded products.  Most of them look good and have low prices but they all lack crash survivability.  There have been many structural changes to the Zagi as the brushless motor and lithium battery technology increase the performance potential.  Passive energy absorption is the theory that gives Zagis their crash survivability.  Passive on impact yet aggressive enough to support the flight loads at performance speed is what can be expected from a Zagi.    
|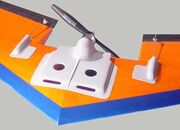 |}